Lots of things influence us and the road we walk on… everyday. Some of these influences are good and the others are bad, some come rapidly and retire quickly, the others slowly stem from us and they seem to stick and influence our lives for a longer period of time. They'd stay till something far more influential would come sweep us away.
I've had loads of things that have influenced my fight with life and destiny, but I'd choose to talk only about the cream here. I'm not including family and friends here as "influences" because I believe that they are a part of me and uhm, they too are influenced by these influential people; somehow! Following are some of the most influential people in my life as of today:
The Barnicle! (Barney Stinson or Neil Patrick Harris)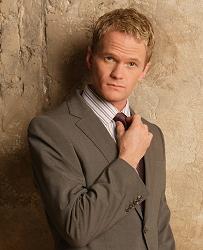 Ahh well, how can you not idolise this guy? Minus his self-righteous sexual needs of course! But then, somehow; if you remove that, Barney would end up being just another tedded up you and me! Ohh yes, Ted is kinda lame and I love using him as a verb. Anyway, coming back to this LEGEN…wait for it, and I hope you're not lactose-intolerant because the second half of this word is…DARY, guy – he's an epitome of awesomeness! Yes, thats right! He's my new role model when it comes to living life and counting every second of it to 666 to the power of 666, you know what I mean, ha?! Its from him that I learnt that the easiest way to live life is to follow one of his simple rules, "When I feel sad, I stop being sad and be awesome instead, true story!" He'd say that with that smile. It'd brighten up a dead mans day I tell you. Barney – you rule! Some of his awesomeness:
"You dumped a porn star?? friendship over. FRIENDSHIP OVER!!!"
"You are dangerous maverick,Your ego is writing cheques tht ur body cant cash"
"Daddy's home!"
"…because the next step is PURG-wait-for-it… keep waiting… keep waiting till eternityATORY"
Moving on, I'd like to mention two people at the same time. Now, I'm too small to even talk about them, but then legends would always influence your life either today or tomorrow. There's no stopping them from entering your ears, eyes and brains. They'd rule over your musical neurons and there is nothing you can do. Here are a few of the people who musically move my life:
Roger Waters
I can't talk much about the man, cause like I said, his musical genius is something I can only be in awe for. I've got a snip from Wiki – "George Roger Waters (born 6 September 1943) is an English rock musician; singer, bass guitarist, guitarist, songwriter, and composer. He is best known for his 1965–1985 career with the band Pink Floyd; he was credited as their main songwriter (after the departure of Syd Barrett), bass player and one of their lead vocalists (along with David Gilmour and, to a lesser extent, Richard Wright)" Simply put, his music along with the way he'd play the guitar is devine and I can't stop listening to him perform!
David Gilmour
Again, this is one guy who can bring music to life. I have very little to talk about him cause he's awesome! For those who might not know him, here's a snip from Wiki "David Jon Gilmour CBE (born March 6, 1946) [1] is an English musician best known as the lead guitarist, one of the primary singers, and one of the main songwriters (with Roger Waters) in the band Pink Floyd. In addition to his work with Pink Floyd, Gilmour has also worked as a record producer for a variety of famous artists. Gilmour has been actively involved with many charity organisations over the course of his career."
These two are important because I love the music they've created and somehow, though they did not appeal to me initially, they called out to me and I haven't been able to stop myself from listening to them over and over again. Pink Floyd drifts me into a world where I'd float around the strings they pull and of course, the lyrics and words which mean so much to me! Thanks to my so called friend who introduced me to them!
Aaron Lewis
Aaron Lewis, (born April 13, 1972 in Rutland, Vermont, U.S.), is the lead vocalist and rhythm guitarist of the
alternative metal group Staind. Though they'd call it metal, for me, it doesn't sound metal-ish! Its more like grunge rock. Aaron has written some lyrics for songs like Outside, Epiphany, Its been a while and a few other songs. I can't really explain what his words mean to me, but his words and his music influence my life a lot. Rock on!
Uhm, thats it for my list of people who influence my life. These are external variables, but there are very few who work on the inside and most of them are constants. No variables whatsoever. Somehow, I feel that talking about constants is futile and a waste of my time. Mostly because they are there to stay and I can't do much about them! I can't thank them and I wont. Peace out.
-Anup