It was Abhi's birthday on the 11th and if I haven't mentioned this before – I'm very poor with numbers and dates alike. I somehow seem to prefer text more to numbers. I must say that I've been fascinated by numbers recently because I'm watching the series – Numb3rs. Its funny that when I'm writing, I'd prefer writing it as twenty instead of 20. It seems to glorify my affinity towards letters and words of the English language and takes me further away from numbers. Well, thats precisely why I was very bad at Math. I was good at algebra though because it had letters in it, you know? Formulae and others. I found it easy to comprehend and understand.
I suddenly noticed that I've strayed away from the point and so I'd just quickly trackback to where I was; Abhi's birthday. He turned 27 and we celebrated his birthday and his coming to Bangalore (for 2 days) in complete style yesterday at this place called "The Beach" This was an awesome experience for me, Ajay and Ritesh (Ajay's friend from mumbai) Abhi sucked on his obvious distaste for loud music that he could not comprehend much. He stared at the table and wondered, "Whats wrong with these people!?" Ajay sang well. In fact, I'd say he did an outstanding job of entertaining all those who were present. There was this other guy, I'm not sure about his name, so lets call him Sam. So Sam was the other singer who sang very well and that too without losing an ounce of energry. Mostly because of all the smoke he was puffing in and out along with whatever it was that he was drinking. Then there was this gay guy who sang very much like Enrique and the chicks dug his style of singing. Ohhh, and we actually had a gay guy there who wore denims meant for the girls and those flat osho type slippers that they wear. The girls seemed to be very comfortable around him and they danced along, sometimes weird and the other times funny. Then there was this guy who had come along with a girl who seemed disturbed that she was there with him and was trying to avoid any kind of talks. She stared at all the others around and tried to avoid talking to him. This guy was stupid anyway, he sat on the seat after he had pushed the cushion down, jackass. He tried to dance with a chick who thought she could dance, but then Ajay and me though that they sucked at it. There was this one girl that I liked, but then she was a bloody chimney. I guess they were this gang of friends and friends of friends who knew each other. It was a gang of around 25 odd people and they were all fired up. Funny that Ajay still stole the show with songs like – Angel, Alice and Smells like Teen spirit. I actually loved it when he sang Smells like teen spirit cause I was jumping around and yelling along from behind. The next time, I'll be up front and I'll make sure that I croak. YAY for Karaoke.
We got over the food part pretty quickly cause we had delicious french fries and some amazing paneer starters. No one wanted anything to eat after it. They drank some beer, smoked a lot of cigs and the shop closed its gates at 11. Its pretty strict here in Bangalore and somehow, I feel its a good practise. Lesser deaths due to accidents caused off negligent/under the influence of alcohol driving. Most dancers and clubbers hate it though and they're hoping that the new government would probably take out the various limits and bans they've set. Well, lets see where that goes.
We clicked a few pictures after reaching home and from there Ajay and the guys came over to my place to drop me. Here was where we picked Abhi up and kicked him like madmen at 12:00 AM in the morning. Adventurous, I'd say; picking Abhi up was arduous and then we had to kick him simultaneously. I guess his ass musn't have hurt cause its huge and all full of chubby ASS! Well, that ended the whole Karaoke thing and I must say, I enjoyed it. Thanks Ajay.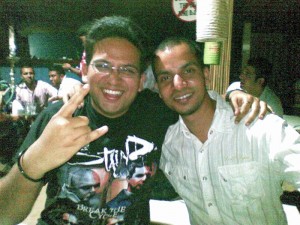 Something I missed to type in from last week. I watched the movie Sarkar Raj and I'd say its a must watch. Not for RGV, he sucks more after his AAG! But then, you wouldn't want to miss the chemistry of the father-son duo in the movie. They rocked. Aishwarya looked old, weird and unfit for the clothes she wore, I thought. Plus, she's tall in an unattractive way, unlike Shilpa Shetty or Deepika Padukone; well they look delicious! The movie is awesome and I loved the sound track. I must sleep now, haven't slept in two days and I am about to crash on the keyboard.
-Anup