I've had a cyclone of strings to write about and these have kept me unsure about what to write first. I'd think about what to write and then give up. This usually never happened to me because I'd let my fingers flow; not according to what was on my head but mostly what was in my heart. Precisely like what I told Vijay earlier yesterday when he said that the stuff I wrote hid certain parts of me. I'd beg to differ here though because according to me writing was the only activity that got the best out of me. But then, maybe he's right. Probably, this hideous behaviour is subconscious. I'm not sure about what I'd need to do to be more crystal and then again, whats the point in me trying to change the way I write? That'd just be someone else looking back and asking a different set of questions.
Coming to what happened last week. It was a festive week since it was Dassera and Radha aunty and family had decided to go on an outing. They were unsure about two spots – Innovative film city or Nandi hills. I suggested Nandi cause I think its a lovely place to be plus I'd wanted to get out of the sultry October heat. The weather in Bangalore is kinda weird these days. It rains when you think its going to shine the rest of the day. It rains along with the heat and I love the rainbows. Kuttapi decided to traumatize us because he coaxed us into going to Innovative since he had feedback that the place rocked. Before I talk about the place, I'd like to warn all those people who have even thought of going there somewhere down the line to consider their idea again because its a bad one. The place is the biggest rip-off I've ever seen and it was a complete waste of time, energy and money. We were drained by the time we returned; not cause we enjoyed being there but because me and Ravi Uncle had jointly spent around 3,500 Rs and mostly it was for nothing. Like I said, its rip-off and its one of its kind!
 The ripping-off begins from the time you enter the place where the entry fee is Rs 50 per person (seems nominal but ends up being quite a lot if you're in a gang) from here on every room you enter you'd lose purse-weight, an average of Rs 100 ever time. The machinery and technology used belonged to the neantherthal age and it made me mad when I saw the video game arcade. God damn it! Those were the oldest nintendos I had ever seen and I wondered about what the fuck it was that they thought when they decided to get these old age things out for sale. The sad yet funny part of this story though was that they were making a lot of money out of it. People made beelines to all of these rooms which displayed a variety of things, or so to say a charade of lies. There was nothing worthwile inside any of these rooms. Tussads wax museum – huh, what in the name of god was that? I laughed my ass out at some of the statues. Ripleys; we didn't even bother going in and so did we ignore the dinosaur enclave. The only tolerable part was where we watched the 4D movie and even though it was kinda stone age it still made me giggle. Then the food court, the mind blowing display of foodelicious delights or so they said it was. This was the most miserable place to eat cause it all tasted and smelt like chicken and we were veggies. I ate what I bought but then trust me, the food was distasteful and I had to eat two icecreams after; just to make the taste go away. The mirror maze was another rip-off because they had one of their men inside who used to show us the way; just so that people don't spend more than 10 minutes inside. This was ironic cause whats the point of a labyrinth when you'd have directions written all over it? The mini-golf was a rip-off from far far away and thus we never ventured in that direction. I laughed my ass out when I reached the so called state of the art go-karting track cause it was a small roadline with weird small cars nearly screeching as they ran with families loaded onto it. And they call this go-karting; way to go, losers! Here on we did not feel like spending a dime more and decided to take off. This left Kuttapi in a fix though because he wanted to go take a dip in the wave pool but it was expensive business. His dad asked him to go take a shower when we reached home. That was funny. Kuttapi wasn't grumpy though, he just cursed the place along with me. We clicked some pictures to remind ourselves of how much the place sucked and ran for our lives.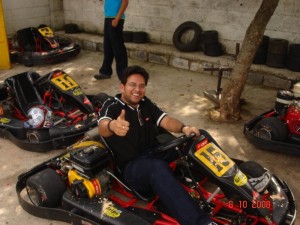 Now its not like I love go-karting but the tracks on mysore road called Grips was a lot more fun than this could ever be. I didn't quite enjoy it as much as the F1 champs Ajay and Rispi neither was I gleefully excited like Chetan was but I was happy to be amongst them and go for a joyride in the small car. I mean, I don't see the point – why drive a small car when I can roar on an 87 BHP Maruti Swift? Its stupid I thought. Also, go-karting is expensive leisure just as well. Anyhow, the point here is that Innovative film city courtesy Jai (I'm going to kill you when I meet you) and Kuttapi turned to be one of my worst nightmares and these rippers must close it down till the time they complete the work there at least and even after that if they'd really wanna run the place they'd need to build on what they have. Alright, I'm done with my rambling. The thought on my mind right now is – How do we fill the void of someone we loved a lot and lost in the end? Especially when we know that our loss means nothing to them? Grrr, why is it that one glimpse of an old love causes a nostalgic whirlwind which would drown us almost always? How do I get OUT of this once and for all?
-Anup