Here's a little something that came into my head out of event horizon:
Clear skies, yet again
A blessing to your eyes
Orange dawn drives me insane.
From within me guzzles;
Warm thoughts of life,
Hope within hopes
Lies within lies,
Wants and desires,
Dreams and pain;
Concealed within hot fires,
All of them so seemingly hidden,
Beyond the horizon;
Some warmth from within the cold.
Chirping birds and humming bees,
Yellow light – mystic and crimson…
Clear skies – blue, orange and white,
Studded with me, me and me!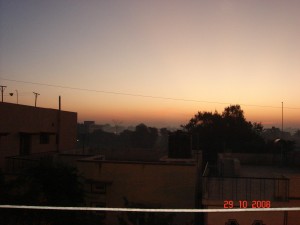 It was a lovely feeling early today morning. I'm not sure how but like Chetan said yesterday… nature knows that its festive time maybe. Heavy rains lashing the city stopped well before Diwali and has since then shown mercy to the midgets that we are. Living off of whatever is thrown down to us, inconsiderate and nothing but a plague to Gaya and the life she carries within herself. We continue to hurt her and there seems no end. We really are a plethora of erosive parasites and we're slowly eating her up. But then, she's ever forgiving and God is loving. I have no other justification to the wonderful people in my life right now and I'm insanely happy.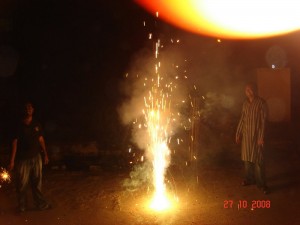 We celebrated Diwali pompously on the 27th; uhm yeah, one full day ahead of when it actually was! But then, it made me very happy cause I have such amazing people in my life and I'd consider myself to be lucky if at least these few people stick by. Ratheesh and Chetan had come over with crackers that we bought for 60% discount (apparently) . We visited the temple and prayed (good guys, aren't we?) burst some crackers and here's when me and Chetan got a dose of poisonous fumes and the both of were in neck deep trouble. He ended up uncomfortable, cold and itchy and I was breathless. I couldn't sleep much because my lungs kept me awake. I just couldn't breathe when I tried to lie down. Radha aunty was a life saver yesterday morning. I was looking for some medical shop that would be open but none of them were and I decided to ask Radha aunty if she knew of some place. Thats when she gave me an inhaler that she had and I'd say it saved my life. Food and now this! Man, you're awesome. Speaking of food; we stuffed ourselves with sweets and by day end it kinda got me and Ratheesh into a lot of shit; literally *winks*
I'm compelled to talk about this movie I watched – A Scanner Darkly. Now, this was the first Rick LinkLater movie I watched and I haven't watched 'Waking life' but I've heard a lot about it and I need to watch it as soon as this download is over. I've become an abuse to the internet, a leecher with no morals cause I don't like seeding. I download and then stop. Damn! these days, I don't like the idea of sharing. Anyway, the movie talks about a guy and thereby indicating a world full of drug addicts and the the paranoia, perceptual distortions, and chaos of hallucinogenic overindulgence. Keanu Reaves does an awesome job as per uge' and I love his style. I've loved him in movies like "The Matrix Trilogy" and "Constantine" he's been amazing in movies like "The Lake House" "A walk in the clouds" and now this. The guy does an amazing job of portraying emotions in a not-so-shahrukhanish style! To the point, clear, concise and stylish. I did watch a few other movies – Contract Killers, A Cinderella Story, Quarantine and a few more but Scanner Darkly was different because of its story line and the animation done to people who actually acted in the movie. Looked creepy, mysterious and thats what made the movie even more gripping. A couple of good things that happened over the weekend – Abhi is back! I'm happy that he is. I got the t-shirt I've been wanting since ever – The Division Bell and it totally rocks. Finally, I'm playing Dante – Devil May Cry 3 and so far, its an outstanding game. I can't explain how awesome it is. Not right now at least cause I'm into it so maybe the next time I'd ramble on about the game! Peace out suckers.
-Anup